Does an electric vehicle need an MOT?
Yes, all EVs that are more than 3 years old require an MOT. This is like any other vehicle.
How does an MOT differ for an electric vehicle?
The main difference between an MOT for an electric car and a petrol or diesel car is that there is no emissions or noise test. Other than that, the tester will still check everything they would normally check including lights, seat belts, steering, wheels etc.
What if my electric vehicle fails an MOT?
Just like an MOT for a petrol or diesel car, if your electric car fails its MOT you will be informed by the tester and told the reasons why. You will then have 10 working days to have the defects rectified and your vehicle retested.
How much does an MOT for an electric car cost?
Our MOT Test for an electric car is only £39.95, that's the same as we charge for a petrol or diesel car. The DVSA maximum price is £54.85.
Why choose Farmer Autocare for your EV MOT?
Our price of £39.95 is much less than the maximum DVSA price of £54.85.
Book an MOT appointment online – we have daily one hour slots available.
While-u-wait service.
We'll send you a yearly reminder prior to your MOT due date – keeping you legal and safe.
MOT test centres near you. MOT in Glasgow, Edinburgh, Fife & Perthsire, or West Lothian, Falkirk & Alloa.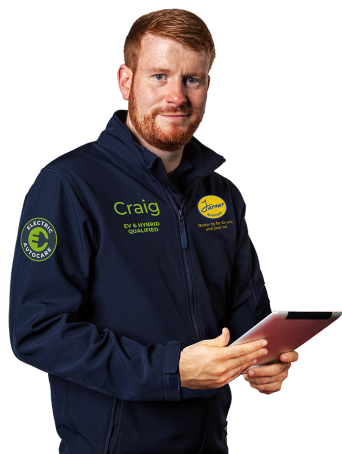 Your electric vehicle is in safe hands.
You'll find Specialised EV Technicians, trained and qualified to IMI Standards, at every Farmer Autocare centre.

Your electric vehicle is in safe hands.
All our centres are equipped with the latest equipment and diagnostic software, allowing our certified technicians to diagnose any problems quickly and efficiently.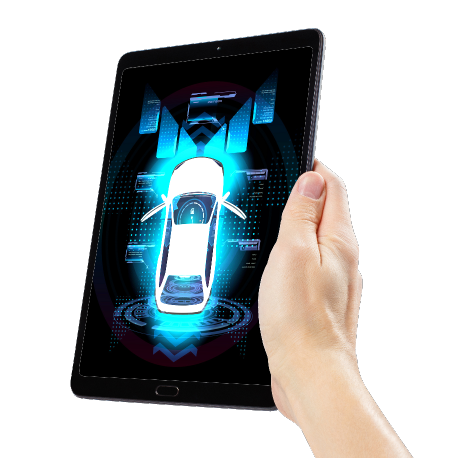 Why Your Electric Car Needs Specialised Vehicle Care.
ELECTRIC VEHICLE TYRES
EVs place additional performance requirements on the tyre. Tyres wear out differently due to greater acceleration, more weight and higher torque. Read more about EV Tyres
ELECTRIC VEHICLE SERVICING
All our Specialised EV trained technicians go through rigorous technical training and are trained and qualified to Institute of Motor Industry standards. Read more about EV Servicing
ELECTRIC VEHICLE MOT
MOT tests make sure vehicles are safe for the road. Like any other vehicle, EVs have to pass an MOT after they are three years old. Read more about an EV MOT