How does a hybrid Car Service differ from a regular car service?
Hybrid car servicing is not very different to how you would service a regular car. Both hybrid and regular vehicles require routine maintenance and inspections. The hybrid service contains much of the same assessment areas as a standard petrol or diesel vehicle, with the addition of checks of the hybrid battery, cables and charging port checks.
How often should I get a hybrid vehicle serviced?
Hybrid serving intervals are like that of a normal petrol or diesel car. We would recommend that your hybrid is serviced annually or every 18,000 miles, whichever comes up first.
Do mechanics require special training and equipment to carry out a service on a hybrid?
All our Specialised hybrid trained technicians go through rigorous technical training. They are trained and qualified to Institute of Motor Industry standards. Our centres are also equipped with the latest equipment, allowing our expert technicians diagnose any problems quickly and efficiently. Our parts are of Original Equipment (OE) quality.
Does it cost more to get a hybrid car serviced?
As a result of the extra diagnostics required and more parts to check, the cost of servicing a hybrid vehicle is slightly higher than a regular petrol or diesel car. For more information of the list of checks for hybrid servicing, click here.
Although the cost of the service is set on the size of your engine, there are certain vehicles that require specialist oil, in which case a small supplement will be charged.
The set prices are:
Up to 1400cc £195
1401-2000 cc £215
2001cc upwards £245
For an accurate quote for your vehicle, click here.
Book your fixed price full hybrid service now
To find out the fixed price service cost for your hybrid vehicle simply enter your registration
What's included in your Full Hybrid Service?

Over 40 Point Hybrid Service
1.
Check operation and condition of all exterior lights
2.
Check instrument warning lamps
3.
Check dash/interior controls switches etc
4.
Check battery condition and connections
5.
Carry out an alternator/battery test and print result
6.
Check door lock operation and lubricate locks,hinges and catches
7.
Check windscreen wiper and washer
8.
Top up windscreen washer reservoir with additive
9.
Check air conditioning is working and record lowest temp
10.
Check and replace pollen/cabin filter (if necessary)
11.
Drain engine oil and replace oil filter, re-fill to correct level
12.
Replace air filter
13.
Check engine for any leaks (coolant/oil/ air conditioning etc)
14.
Check coolant (antifreeze) quality and level top up if required
15.
Complete a visual check on coolant system (pipes,rad,fan,tank)
16.
Check condition of auxililiary drive belts (excluding timing belt)
17.
Check timing belt or chain replacement interval and advise
18.
Check fuel filter (diesel only) and advise
19.
Check spark plugs and advise
20.
Visual check of fuel system (visible lines, fuel cap)
21.
Visual check of all high voltage cables for any signs of damage
22.
Visual check of high voltage connectors (that are visible) for damage
23.
Check brake servo operation
24.
Check advise brake fluid level and boiling point
25.
Top up brake fluid if required
26.
Complete brake report
27.
Visual check of brake hoses, calipers, pipes etc for any damage/leaks
28.
Check calipers, shoes, cables etc
29.
Check handbrake operation and cable adjustment
30.
Check brake sensor wiring and connections for damage
31.
Check condition of springs
32.
Check shock absorbers condition, leaks etc
33.
Check steering components condition/leaks including gaitors
34.
Check for any play in steering and suspension components
35.
Check power steering fluid condition and level
36.
Check wheel bearings for excessive play or noise
37.
Check all wiring connections/sensors for damage
38.
Check drive shaft gaitors for damage/leaks
39.
Check transmission fluid level
40.
Check clutch operations and advise
41.
Check condition of clutch cable (if visible)
42.
Check for any transmission leaks
43.
Complete a visual check on drive system and advise
44.
Complete a visual check on all connectors/cables and advise
45.
Check/advise condition of exhaust and mountings
46.
Check all heat shields are secured and advise
47.
Check all sensors/wiring and connectors and advise
48.
Complete tyre report
49.
Check and adjust all pressures
50.
Check and reset TPMS system
51.
Re-fit wheels and torque to manufacturer spec
52.
Final diagnostic scan
53.
Check and reset service light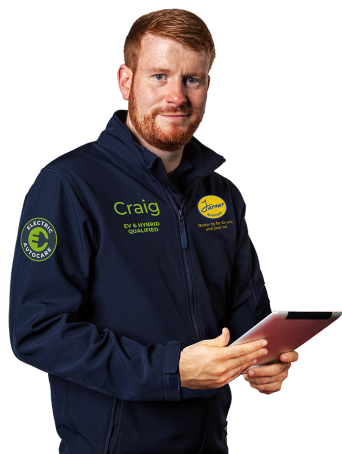 Your hybrid vehicle is in safe hands.
You'll find Specialised Technicians, trained and qualified to IMI Standards, at every Farmer Autocare centre.

Your hybrid vehicle is in safe hands.
All our centres are equipped with the latest equipment and diagnostic software, allowing our certified technicians to diagnose any problems quickly and efficiently.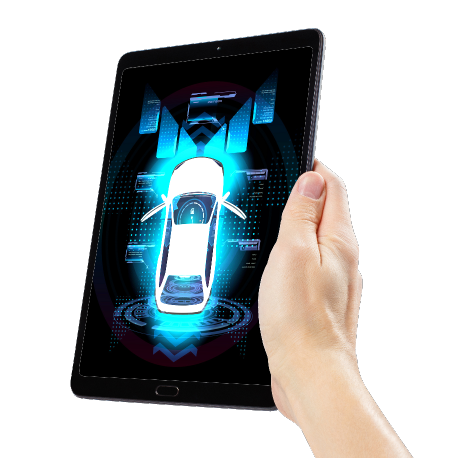 Why Your Hybrid Car Needs Specialised Vehicle Care.
HYBRID VEHICLE TYRES
Hybrid cars place additional performance requirements on the tyre. Tyres wear out differently due to greater acceleration, more weight and higher torque. Read more about hybrid tyres
HYBRID VEHICLE SERVICING
All our Specialised hybrid technicians go through rigorous technical training and are trained and qualified to Institute of Motor Industry standards. Read more about hybrid servicing
HYBRID VEHICLE MOT
MOT tests make sure vehicles are safe for the road. Like any other vehicle, hybrids have to pass an MOT after they are three years old. Read more about a hybrid MOT